VANOX ZMTI Cas 61617-00-3
Product Name: VANOX ZMTI
Molecular Formula: C16H14N4S2Zn
Molecular Weight: 391.81
CAS NO:  61617-00-3
Appearance: white powder
Description
VANOX ZMTI Quick Details
Product Name: VANOX ZMTI
Other name: Zinc 4-methyl-1H-benzimidazole-2-thiolate; Zinc methylmercaptobenzimidazole (ZMMBI); Zinc 2-Mercaptomethyl benzimidazole; ZMTI ; MMBZ; ZMMBI
CAS NO:  61617-00-3
Molecular Formula: C16H14N4S2Zn
Molecular Weight: 391.81
Molecular structure: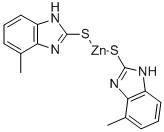 Appearance: white powder
VANOX ZMTI  Typical Properties
Properties: This product is a white powder, non-toxic, odorless, bitter taste. Soluble in ethanol, insoluble in benzene, gasoline, water. Storage stability.
Specification:
Testing Item
Powder
Oiled powder
Appearance
Gray-white  powder
Initial M.P. ℃ ≥
270.0
270.0
Loss on drying % ≤
1.50
1.50
Zinc  Content,%
15.0-20.0
15.0-20.0
Residue on 150μm sieve % ≤
0.10
0.10
Residue on 63μm  sieve % ≤
0.50
0.50
Additive %
\
1.0-2.0
VANOX ZMTI application:
This product is one of non-polluting antioxidant varieties, similar in performance and antioxidant MBZ, used as NR,SBR,BR and other synthetic rubber, anti-thermal aging effect is obvious, it has synergistic effect with Amine and phenol antioxidant to improve the heat and oxygen aging resistance. It can be used in nitrile rubber. When used together with accelerator M and DM, it has the function of inhibiting the accelerated aging of harmful metal. Usually used for transparent rubber products, light-colored and bright-colored rubber products. The effect on curing properties of the compound is obviously less than that of MB, so it is not necessary to adjust the curing system for using this product. This product can be used as auxiliary sensitizer in Natural Latex foaming products. The foam structure is even and the effect is better than MB.
VANOX ZMTI Packaging and Shipping
Package: 25kg/bag.
VANOX ZMTI Storage
The product should be stored in the dry and cooling place with good ventilation, avoiding exposure of the packaged product to direct sunlight.The validity is 2years.