Tauroursodeoxycholic acid CAS 14605-22-2
Purity:≥98%
Appearance: Off-white powder,strong hygroscopicity
Packaging: Aluminum Foil bag,Cardboard bucket
Sample: available
Description
Tauroursodeoxycholic acid
Tauroursodeoxycholic acid quick Details
Product Name: Tauroursodeoxycholic acid
CAS:14605-22-2
MF: C26H45NO6S
MW: 499.7
EINECS: 1308068-626-2
Chemical structure: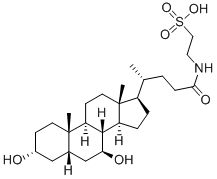 Melting point 173-175°C
Density 1.216±0.06 g/cm3(Predicted)
storage temp. +15C to +30C
Tauroursodeoxycholic acid Specifications
| | |
| --- | --- |
| Item | Specifications |
| Appearance | Off-white powder,strong hygroscopicity |
| Purity | ≥98% |
| Moisture | ≤5% |
| Heavy metal | ﹤10ppm |
| Water soluble | Colorless clear solution |
| PH (1% water solution) | Significantly acidic |
| Identification | (Infrared) Same as the reference substance |
Tauroursodeoxycholic acid Usage
1.Taurine deoxycholic acid is a natural bile acid isolated from bear bile. It is a chemical preparation. It is a hydrophilic cholic acid and a cholesterol stone dissolving agent. It can reduce the secretion of cholesterol in liver, reduce the saturation of cholesterol in bile, promote the secretion of bile acid, increase the solubility of cholesterol in bile, dissolve cholesterol stones or prevent the formation of stones. It can increase the amount of bile secretion and relax the sphincter of bile duct to produce cholinergic effect, which is beneficial to the excretion of stones. This product can not dissolve other types of gallstones. It is suitable for the treatment of cholesterol stones, hyperlipidemia, bile secretion disorders, primary biliary cirrhosis, chronic hepatitis, bile reflux gastritis and prevention of acute。
2.Biochemical research; lipase accelerator; anion remover for protein dissolution; preparation of bacterial medium (intestinal bacterial culture and isolation)
Tauroursodeoxycholic acid Packaging
Aluminum Foil bag,Cardboard bucket , Net weight: 1kg/bag,20kg/drum,25kg/drum
Tauroursodeoxycholic acid Storage
Storage conditions: To be stored in Cool, dry and ventilated location and protected from light.