Sodium pyrophosphate CAS 7758-16-9
Chemical Name: Sodium pyrophosphate
CAS No.: 7758-16-9
Appearance: White powder
Assay:99%
Description
Quick Details
Chemical Name: Sodium pyrophosphate
CAS No.: 7758-16-9
Molecular Fomula: H5NaO7P2
Chemical Structure: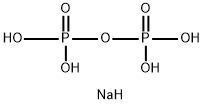 Molecular weight: 201.97
Appearance: White powder
Assay:99%
Typical Properties
Melting point
decomposes 220℃ [MER06]
density
(hexahydrate) 1.86
vapor pressure
0Pa at 20℃
storage temp.
-70°C
solubility
H2O: 0.1 M at 20 °C, clear, colorless
form
white powder
color
White to Off-White
PH
3.5-4.5 (20℃, 0.1M in H2O, freshly prepared)
Water Solubility
Fully miscible in water. Insoluble in alcohol and ammonia.
λmax
λ: 260 nm Amax: 0.11
λ: 280 nm Amax: 0.09
Merck
13,8643
Stability:
Stable.
application:
Sodium Pyrophosphate Dibasic is anhydrous form, pyrophosphate salt used in buffers.
Packaging and Shipping 
Drum, 25kg
Storage
Keep in dark place,Inert atmosphere,Store in freezer, under -20°C