Sodium Gluconate Cas 527-07-1
Chemical Name: Sodium Gluconate
CAS No.: 527-07-1
Molecular Formula: C6H13NaO7
Molecular Weight: 220.15
Description
Sodium Gluconate Details
Chemical Name: Sodium Gluconate
Synonyms: D-Gluconic acid, monosodium salt; Gluconic acid sodium salt
CAS No.: 527-07-1
Molecular Formula: C6H13NaO7
Molecular Weight: 220.15
Molecular Structure: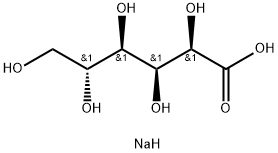 Appearance: white crystal
Sodium Gluconate Typical Properties
| | |
| --- | --- |
| Melting point | 170-175 °C |
| Specific rotation | [α]D20 +11~+13° (c=10, H2O) |
| Appearance | White to light beige Crystalline Powder |
| Solubility | H2O: 0.1 g/mL, clear |
| PH | 7.0-8.0 (100g/l, H2O, 20℃) |
Sodium Gluconate Usage
1. Sodium gluconate can be used as an efficient chelating agent in construction, textile printing and dyeing, metal surface treatment and water treatment industries, steel surface cleaning agent, glass bottle cleaning agent, electroplating industrial aluminum oxygen coloring, and in the concrete industry as an efficient retarder, high efficiency Water reducing agent, etc.
2. Food Industry
It can replace table salt and is widely used in salt-free soy sauce, bread and other food fields;
It can Improve food flavor: Sodium gluconate has the functions of masking the bitter taste of food, shielding odor, improving taste, etc., and has a significant effect on improving the flavor of food.
Sodium Gluconate Packaging and Shipping
Packing: 25KG/Drum
Sodium Gluconate Storage
Keep container tightly closed in a dry and well-ventilated place. Store in cool place.