Potassium Citrate CAS 866-84-2
Chemical Name: Potassium Citrate
CAS No.: 866-84-2
Appearance: White crystalline powder
Assay:99%
Description
Quick Details
Chemical Name: Potassium Citrate
CAS No.: 866-84-2
Molecular Fomula: C6H9KO7
Chemical Structure: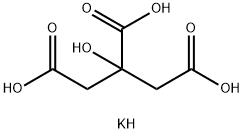 Molecular weight: 232.23
Appearance: White crystalline powder
Assay:99%
Typical Properties
Melting point
decomposes at 230℃ [KIR78]
density
1.187
solubility
H2O: 1 M at 20 °C, clear, colorless
PH
8.59(1 mM solution);8.9(10 mM solution);9.01(100 mM solution);7.47(1000 mM solution)
Odor
at 100.00?%. odorless
Water Solubility
60.91 g/100g saturated solution in water (25°C) [MER06]
λmax
λ: 260 nm Amax: 0.045
λ: 280 nm Amax: 0.025
application:
As a preservative, stabilizing and pH buffering agents and others. China provides for various types of food, according to production needs to use appropriately.
Packaging and Shipping 
Drum, 25kg
Storage
Keep in dark place,Inert atmosphere