Phosphatidylcholine CAS 8002-43-5
Appearance: yellow to brown semi-solid or lump
Packing: 10kg/carton,25kg/fiber drum
Capacity: 5000MT/year
Sample: Available
Description
Phosphatidylcholine Details
Chemical Name:Soybean lecithin
CAS No.: 8002-43-5
Molecular Formula: C42H80NO8P
Molecular Weight:758.06
Molecular Structure: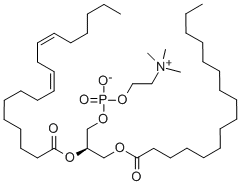 Appearance: yellow to brown semi-solid or lump
Phosphatidylcholine Typical Properties
Item
Standard
Appearance
yellow to brown semi-solid or lump
Solution
soluble in Ether and Ethanol, insoluble in Acetone
Acid value
n.m.t.30
Iodine value
n.l.t.75
Peroxide value
n.m.t.3.0
Identification
 (1)should be a positive reaction
(2) should be a positive reaction
Color of solution
absorbance n.m.t.0.8 at 350 nm
Acetone insoluble
n.l.t.90%
Hexane insoluble
n.m.t.0.3%
Water
n.m.t.1.5%
Heavy metals
n.m.t.20ppm
Arsenic
n.m.t.2ppm
Lead
n.m.t.2ppm
Residual solvents
ethanol             n.m.t.0.2%
acetone             n.m.t.0.2%
dichloromethane       n.m.t.0.06%
total residual solvent    n.m.t.0.5%
Bacteriological account
Aerobes [/g]          n.m.t.100
Moulds and Yeasts [/g]   n.m.t.100
Escherichis coli [/g]    negative
Salmonellae [/10g]     negative
Assay (on dry basis)
Phosphorus (P)
n.l.t.2.7%
Nitrogen(N)
1.5%~2.0%
Phosphatidylcholine
 n.l.t45.0%
Phosphatidylethanolamine
 n.m.t.30%
Phosphatidylcholine and Phosphatidylethanolamine
n.l.t70.0%
Phosphatidylcholine Usage
Used as raw material for health food, emulsifier, quality improver, emulsifier for injection and liposome raw material
Can effectively improve and prevent arteriosclerosis, high blood pressure, heart disease and stroke, at the same time can enhance cell vitality, regulate the nervous system
Nutritional medicine. Used to prevent atherosclerosis, hypertension, heart disease, Alzheimer's disease, gout, diabetes, neurasthenia. It can also be used for bacterial culture medium preparation. Phospholipids are powerful emulsifiers that can "emulsify" cholesterol and fat into very fine particles, and even resolve the "atherosclerotic plaques" that have formed, thereby reducing blood lipids and reducing the chance of stroke and myocardial infarction. As an emulsifier, phospholipids can also help the body absorb fat-soluble vitamins A, D, E, K, etc., for the body's normal functioning needs.
Biochemical research, the main structural phospholipid in the brain.
Phosphatidylcholine Packaging and Shipping
Packing: 10kg/carton,25kg/fiber drum