Methyl 2-hydroxyethyl cellulose Cas 9032-42-2
Chemical Name: Methyl 2-hydroxyethyl cellulose
CAS No.: 9032-42-2
Molecular Formula: C2H6O2·xCH4O·x
Description
Methyl 2-hydroxyethyl cellulose Details
Chemical Name: Methyl 2-hydroxyethyl cellulose
CAS No.: 9032-42-2
Molecular Formula: C2H6O2·xCH4O·x
Molecular Weight: /
Molecular Structure: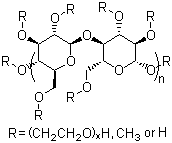 Appearance: Powder
Methyl 2-hydroxyethyl cellulose Typical Properties
| | |
| --- | --- |
| Density | 1.28-1.30 g/cm3 (20℃) |
| Storage | Store below +30°C. |
| Solubility | H2O: 20 mg/mL, soluble |
| Appearance | Powder |
Methyl 2-hydroxyethyl cellulose Function
Hydroxyethyl methylcellulose (MHPC) is an odorless, tasteless, non-toxic white powder that can be dissolved in cold water to form a transparent viscous solution. It has the properties of thickening, adhesion, dispersion, emulsification, film formation, suspension, adsorption, gelling, surface activity, moisture retention and protective colloid.
Since the aqueous solution has surface-active functions, it can be used as a colloidal protective agent, emulsifier and dispersant. Hydroxyethylmethylcellulose aqueous solution has good hydrophilicity and is an efficient water retention agent. Because hydroxyethyl methylcellulose contains hydroxyethyl groups, it has good anti-fungal ability and has good viscosity stability and anti-fungal degeneration during long-term storage.
Methyl 2-hydroxyethyl cellulose Usage
Widely used in water-based latex coatings, construction and building materials, printing inks, oil drilling, etc.
Methyl 2-hydroxyethyl cellulose Packaging and Shipping
Packing: 25KG/Drum
Methyl 2-hydroxyethyl cellulose Storage
Keep container tightly closed in a dry and well-ventilated place. Store in cool place.