Lithium Bromide Powder CAS 7550-35-8
Appearance: White crystal
Assay 99.0%min
Packaging: 25KG/drum
Capacity: 800MT/Year
Sample: Available
related documents:
TDS of Lithium Bromide Powder Cas 7550-35-8
Description
LiBr
Lithium Bromide Quick Details
Chemical Name: Lithium bromide; LiBr
CAS No.: 7550-35-8
Molecular Formula: BrLi
Molecular weight: 86.85
Molecular Structure: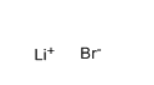 Appearance: White crystal
Lithium Bromide Typical Properties
Item
Specifications
Results
Appearance
White crystal
Conforms
Purity (LiBr)
≥99.00%
99.33%
PH Value
7.0 —10.5
9.05
Sulphates (as SO4)
≤0.08%
<0.08%
Ca
≤0.01%
<0.01%
Mg
≤20ppm
<20ppm
Iron
≤20ppm
<20ppm
Lead (as Pb)
≤0.005%
0.013%
Moisture
≤0.6%
0.12%
Conclusion
Qualified
Lithium Bromide Usage
It is a highly efficient water vapor absorbent and air humidity regulator, mainly used as the working medium of lithium bromide refrigerators.
In addition, it is used as hydrogen chloride removal agent and organic fiber expansion agent in organic chemistry.
It is also used as a hypnotic and tranquilizer in medicine.
Lithium Bromide Packaging and Shipping
25KG/drum
Lithium Bromide Storage
Store in a cool and dry place.