Hydroxyecdysone CAS 5289-74-7
Assay: 95%min
Appearance: White powder
Packaging: 25kgs/Drum or by customed
Sample: available
Description
Hydroxyecdysone
Hydroxyecdysone Quick Detail
Appearance: White powder
CAS: 5289-74-7
MF: C27H44O7
MW: 480.63
EINECS: 811-097-1
Chemical Structure: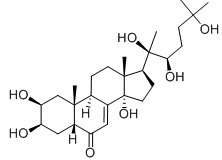 Hydroxyecdysone Properties
Item
Specification
Result
Appearance
This product is light yellow crystalline powder, odorless, hygroscopic
Complies
Identification
1) Positive

2) Positive

Complies
Loss on Drying
≤5%
3.86%
Residue on Ignition
≤1%
0.17%
Assay
≥95% (By UV)
96.12%
Total Number of Bacteria
≤1000cfu/g
<1000cfu/g
Mold and Yeast
≤100cfu/g
<100cfu/g
E.coli
Not detected
Not detected
Conclusion
The product meet the testing requirements
Hydroxyecdysone Usage
1.Applied in pharmaceutical field, it can be used to improving the body function.
2. Applied as comestics, it can enhance the metabolism of cells and activation of the active substance, has the good skin whitening effect.
3. Applied as health care products, it is used to enhancing protein the amino acid to produce protein.
4. Applied in breeding industry, it can reduce the fighting between individuals and improve the survival rate of breeding.
Hydroxyecdysone Package
25kgs/Drum or by customed.
Hydroxyecdysone Storage
Store in cool & dry place. Keep away from strong light and heat.