chimassorb 944 cas 71878-19-8
CAS No.:71878-19-8
Appearance: light yellow powder
Capacity: 200mt/year
Packaging: 25KG/DRUM
Sample: available
Description
Chimassorb 944
Chimassorb 944 Details
Chemical Name: Chimassorb 944
CAS No.:71878-19-8
Molecular Formula:C35H69Cl3N8
Molecular Weight:708.33496
Molecular Structure: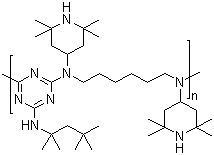 Appearance: light yellow powder
Chimassorb 944 Typical Properties
Appearance
White or light yellow solid
 light yellow powder
Volatiles
≤0.50 %
0.23 %
Molecular Weight
2000-3100 g•cm-1
12870g•cm-1
Mass Loss

(At 5%)

≥360℃
376.8℃
Ash
≤0.1%
0.01%
Softening Point
110-130℃
115.0℃
Chroma(Apah)
≤80
 28.0
Light Transmittance

(425nm)

≥93%
96.5%
Light Transmittance

(450nm)

≥95%
97.7%
Test Standard
Q/321311 GZJ001-2018
Chimassorb 944 Usage
Light stabilizer 944 is a kind of high molecular weight light stabilizer. Because there are many functional groups in its molecules, it has high optical stability. Because of the large molecular weight, the product has good heat resistance, extraction resistance, low volatility and good resin compatibility. This product is mainly suitable for low density polyethylene film, polypropylene fiber, polypropylene tape, EVA film, ABS、 polystyrene and food
Chimassorb 944 Packaging and Shipping.
25KG/DRUM
Chimassorb 944 Storage
Keep container tightly closed in a dry and well-ventilated place.