Arabinogalactan Cas 9036-66-2
Appearance: Off-white powder
Purity: 99%
Sample: Available
Description
Chemical Name: Arabinogalactan
Synonyms: D-Galacto-L-arabinan; Arabinogalactan fiberaid AG99; FiberAid; Galactoarabinan; HBN; L-Arabino-D-galactan; LaraCare; ResistAid
CAS No.: 9036-66-2
MF: C20H36O14
MW: 500.49144
Molecular Structure: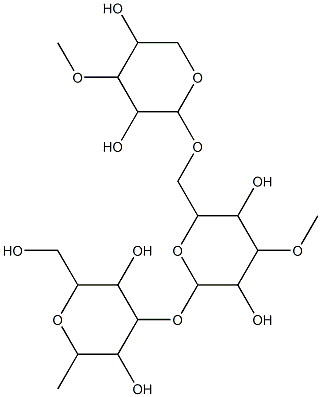 Typical Properties
Items
Specifications
Physical Items:
Appearance:
Off-white powder
Taste and Odor
Characteristics
Sink, Wet
Sink
Lump
None
Particle Size
99% pass through 60 mesh
Identification
IR spectrum
Bulk density
30-50g/100mL
Viscosity (20℃, 10% solution)
0.005 Min
Chemical Items:
Assay (On dried basis):
99.0% Min
PH (10%-40% water solution)
4.0-8.0
Loss on Drying
7.0% Max
Ash
5.0% Max
Heavy Metals
5ppm Max
Arsenic (As)
0.4ppm Max
Lead (Pb)
0.1ppm Max
Cadmium (Cd)
0.25ppm Max
Mercury (Hg)
0.1ppm Max
 Microbiology Control
Total Plate Count
1000cfu/g Max (USP)
Total Yeast & Mold
100cfu/g Max
Coliforms
10cfu/g Max
E. Coli
Negative
Salmonella
Negative
Shigella
Negative
Staphylococcus aureus
Negative
Hemolytic streptococcus
Negative
Function:
Arabinogalactan is a neutral polysaccharide composed of arabinose and galactose. This sugar is contained in large amounts in the xylem of coniferous trees, especially up to 25% in larch (Larix). It can be extracted from wood flour with water.
Usage:
Thickeners, stabilizers, emulsifiers, compatibilizers, polishes, binders. Used for emulsifying essence; the base of seasoning, sauce and pudding, etc. Substitute gum arabic.
Packaging& Storage:
25kg/ fiber drum, stored in a cool and dry environment.