Ammonium pentaborate tetrahydrate CAS 12046-04-7
Chemical Name: Ammonium pentaborate tetrahydrate
CAS No.: 12046-04-7
Molecular Formula: B5H12NO12
Molecular weight: 251.1
Description
Ammonium pentaborate tetrahydrate Quick Details
Chemical Name: Ammonium pentaborate tetrahydrate
CAS No.: 12046-04-7
Molecular Formula: B5H12NO12
Molecular weight: 251.1
Appearance: White crystalline
Chemical Structure: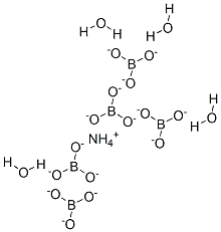 Typical Properties
Items
Standard
Result
Chloride,ppm
 ≤1
<1
Sulfate,ppm
 ≤5
<5
Fe,ppm
 ≤2
<2
B2O3,%
62.5-64.5
63.5
NH3,%
6.15-6.35
6.25
Conclusion and remark
PASS
Usage
Mainly used in the manufacture of telecommunication equipment and high-grade glass. Used as metal protective agent, fire retardant, detergent and analytical reagent. It is also used in the synthesis of boride intermediates.
Packaging and Shipping
Packing:25kg/drum
Delivery:Within 7-10 working days.
Storage
Store in cool place. Keep container tightly closed in a dry and well-ventilated place.