5-Aminolevulinic acid hydrochloride CAS 5451-09-2
Assay: 98%min
Appearance: Almost white powder
Packaging: 25 kg/fiber drum,1kg/bag
Sample: available
Description
5-Aminolevulinic acid hydrochloride
5-Aminolevulinic acid hydrochloride Quick Details
Chemical Name: 5-Aminolevulinic acid hydrochloride
CAS No.: 5451-09-2
Molecular Fomula: C5H10ClNO3
Appearance: Almost white powder
Assay:98%min
Chemical Structure: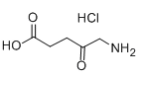 5-Aminolevulinic acid hydrochloride Typical Properties
Item
Specifications
Appearance
Almost white powder
Identification
FT-IR,HPLC,NMR,Mass
Loss on drying
≤1.0%
Melting point
149℃-155℃
Residue on ignition
≤0.5%
Heavy metals
≤20ppm
Iron
≤20ppm
Bacteria endotoxins
≤0.4USP EU/mg
Microbial Limits
Total aerobic microbial count
≤100cfu/g
Staphylococcus aureus
Absence
Pseudomonas aeruginosa
Absence
Salmonella species
Absence
Escherichia Coli
Absence
Impurities
Any other single impurity
≤0.3%
Total impurities
≤1.0%
Assay
98.0%-102.0%
5-Aminolevulinic acid hydrochloride Usage
1).In pharmaceutical field, it is used as a photosensitizer for Photodynamic Therapy.
2).In food supplements and professional cosmetics field, it has the effect of improving vitality, strengthening immunity, moisturizing and locking water, removing acne and freckle.
3).In agriculture field, It can enhance crop photosynthesis and promote animal nutrition.
5-Aminolevulinic acid hydrochloride Packaging and Shipping
25 kg/fiber drum, 1kg/bag
5-Aminolevulinic acid hydrochloride Storage
Preserved in tight, light resistant containers at 2℃ – 8℃.