4-Aminophenol Cas 123-30-8
Assay: 98.5%min
Appearance: Cream-coloured to white crystallization or powder
Package: 25kg per drum
Capacity: 2000MT/month
Sample: Available
Description
4-Aminophenol
4-Aminophenol Quick Details
Chemical Name: 4-Aminophenol; p-Aminophenol
Synonyms: Para Amino Phenol; 4-Hydroxyaniline; 4-Amino-1-hydroxybenzene
CAS No.: 123-30-8
Molecular Formula: C6H7NO
Molecular Weight: 109.13
4-Aminophenol Structure: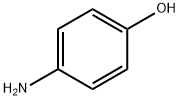 Appearance: Cream-coloured to white crystallization or powder
Assay: 98.5%min
4-Aminophenol Typical Properties
Item
Specifications
Results
Appearance
Cream-coloured to whitecrystallization or powder
powder
Content
≥ 98.5%
99.16%
Ferrous Content
≤ 0.005 %
0.002%
Water Content
≤ 0.5%
0.41%
Transmittance
≥ 95%
98.8%
Melting Point
1860C~1890C
188.50C
Conclusion
The results conforms with enterprise standards
4-Aminophenol Usage
Useas raw materials for medicines and dyes, analytical reagent antioxidants, developers:
1. Used for the production of drugs such as paracetamol, clofibrate and the synthesis of dextran, vitamin B1 and complex niacinamide.
2. Used to produce azo dyes, sulphurdyes, acid dyes, fur dyessuch assulphideblue FBG and weak acid yellow 5G, etc
3. Use as an analytical reagent. Use as determination of gold copper, iron, magnesium, vanadium, nitriteandcyanate
4. Used as a developer for black-and-white films. It is also used as antioxidants and petroleum additives, etc.
4-Aminophenol Package
25kg per drum
4-Aminophenol Storage
Keep in a well-closed,light-resistant, dry and cool place.