2,4-Dichlorobenzotrifluoride CAS 320-60-5
Chemical Name: 2,4-Dichlorobenzotrifluoride
CAS No.: 320-60-5
Appearance: colorless liquid
Assay:99%min
Description
2,4-Dichlorobenzotrifluoride Quick Details
Chemical Name: 2,4-Dichlorobenzotrifluoride
CAS No.: 320-60-5
Molecular Fomula: C7H3Cl2F3
Chemical Structure: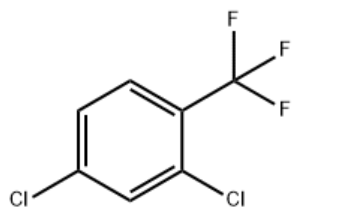 Molecular weight: 215
Appearance: colorless liquid
Assay:99%min
ZINC BENZOATE Typical Properties
Item
Standard
Identification
A.H-NMR:Comply with the structure
B.LC-MS:Comply with the structure
C.The IR spectrum of sample should be identical with that of reference standard.
D.HPLC-ESI-MS

The retention time of the major peak in the chromatogram of the Assay preparation corresponds to that in the chromatogram of the Standard preparation, as obtained in the Assay.

Loss on drying
≤2.0%
Heavy metals
≤10 ppm
Water
≤1.0%
Sulphated ash
≤0.5% determined on 1.0 g.
Residue on ignition
≤0.1%
Related Substances
Unspecified impurities: for each impurity ≤0.10%
Total Impurity ≤0.5%
Purity
≥99.0%
Assay
99.0%~101.0% (anhydrous substance).
Storage
Preserve in well-closed, light-resistant and airtight containers.
2,4-Dichlorobenzotrifluoride application:
Organic intermediate,In pesticides, it can be used as the raw material of the upland field herbicide diclomine. This drug is used in cotton, soybeans and other horticultural crops. It is a highly efficient and low-toxic upland field herbicide. In addition, it is also used in the synthesis of medicines and dyes.
2,4-Dichlorobenzotrifluoride Packaging and Shipping 
Drum, 25kg
2,4-Dichlorobenzotrifluoride Storage
It should be placed in tight container,avoiding light