2-Methyl-1-propanol CAS 78-83-1
Assay: 99%min
Appearance: Colorless transparent liquid
Packaging: 200kg /drum
Sample: available
Description
2-Methyl-1-propanol
2-Methyl-1-propanol Quick Details
Chemical Name: 2-Methyl-1-propanol
CAS No.:78-83-1
Molecular Fomula:C4H10O
Chemical Structure: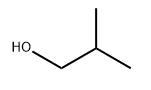 Molecular weight:74.12
Appearance:Colorless transparent liquid
Assay:99%min
2-Methyl-1-propanol Typical Properties
Item
Specifications
Results
Appearance
Colorless transparent liquid
Confirmed
Item
Indicator
Measured
High-Class Products
Qualified Products
Chromaticity (Pt-Co Color Number)
≤10
≤20
4
Density(20℃) g/cm³
0.801-0.803
0.801-0.803
0.803
Isobutanol Content
≥99.3%
≥99.0%
99.5%
Acidity (in Acetic Acid)
≤0.003%
≤0.005%
0.0008%
Moisture
≤0.15%
≤0.30%
0.052
Evaporated Residue Content
≤0.004%
≤0.008%
0.002
Conclusion
Qualified.
2-Methyl-1-propanol Usage
1.isobutyl alcohol  isobutanol IBA Used as raw material for organic synthesis, as well as as a superior solvent.Used as analytical reagent, chromatographic reagent, solvent and extraction agent. Isobutanol is a kind of raw material for organic synthesis. It is mainly used to synthesize the intermediate of diazine phosphorus, isobutyronitrile.Extraction solvent.
2.Organic synthetic materials. Used in the manufacture of petroleum additives, antioxidants, 2, 6-DItert-butylp-cresol, isobutyl acetate (paint solvent), plasticizers, synthetic rubber, artificial musk, fruit essential oils and synthetic drugs.It can also be used to purify saline chemical reagents such as strontium, barium and lithium, and as a higher solvent.
3.Solvents.Extracting agent.Lithium chloride was extracted from the mixture of lithium chloride and sodium chloride or potassium, and strontium bromide and barium bromide were separated.Determination of calcium, strontium, barium, sodium, potassium, lithium, silver, chlorine and phosphite.Organic synthesis.
Used as a solvent for nitrocellulose, ethyl cellulose, polyvinyl butyral, various oils, rubber, natural resins.Organic synthetic materials.It has limited applications and should never be used to make agricultural plastics because isobutanol can cause crop deaths.
2-Methyl-1-propanol Packaging and Shipping
200kg /drum
2-Methyl-1-propanol Storage
Keep it under low temperature and dry condition.